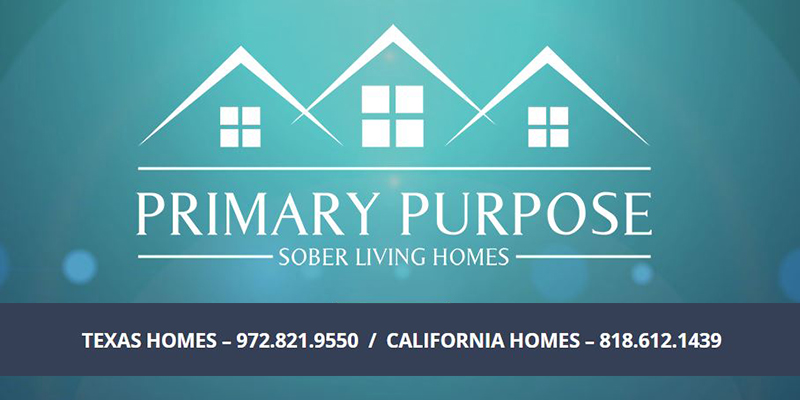 TEXAS HOMES – 972.821.9550  /  CALIFORNIA HOMES – 818.612.1439
Our Story
Primary Purpose Sober Living Homes substance-free living in the San Fernando Valley, opened in 2002 to women interested in living in a "clean and sober" environment, while surrounded by those who support their recovery and bolster their emotionally stability.
In 2003 and 2006, we expanded our program and opened homes for men. Designed for men and women who are interested in immersing themselves in a nurturing and supportive environment, our program provides the resources for our guests to smoothly transition back to everyday life. The success of these homes has set the standard for the homes we have also established in Dallas-Fort-Worth, Texas.

Because the commitment of Primary Purpose is to provide supportive, substance-free, affordable housing to those in recovery, guests are selected based on their desire to build a strong recovery, their agreement to work the 12-Step fellowship program with a sponsor, and ultimately their motivation to remain drug and alcohol free.

Our focus is on honing essential life skills; therefore, in order to live in a Primary Purpose home, guests must either work at a paying job, intern, go to school, volunteer, attend IOP, or any combination of these. But no recovery is complete without the openness, honesty, and willingness that are the essential qualities for achieving and maintaining a drug and alcohol-free life.
Mission Statement
Primary Purpose Sober Living Homes is dedicated to providing supportive, safe, substance-free recovery residences for all guests living in our homes. We offer a structured safe home-like place, full of support for men and for women learning to live life without the use of alcohol or other drugs. 
Our structured environment allows any guest to come in and change their lives. We encourage the 12-step fellowship way and require guests to actively work a program of change. Our success rate is believed to be due to the guidance & rules given to each guest while staying with us.
We believe that our sober living program is a important stepping stone for those who wish to live independently, and gain the tools they need to be successful on their own. 
Our main goal is to help each person transition into productive members of society, and grow as individual in the process of their recovery.
Program Requirements
Must attend 12 step meetings.
Work with a 12 step sponsor in AA or NA
Must be a productive member of society (ie: work, attend school, attend outpatient program in full, volunteer)
Must complete a weekly chore
Mandatory monthly double scrub.
Must test negative for any Drug Urinary analysis or Breathalyzing tests
All guests in their first two weeks are on a 9 pm curfew.
Anyone with less than 30 days clean/sober are on a 9 pm curfew for one month.
Curfew is 11 pm Sunday – Thurs
Curfew is 1 am Friday – Saturday.
Mandatory three-day out for any relapses. A guest may get the opportunity to come back as long as they do not use for the three complete days, check in by telephone with the house manager & test clean when they come back after three days.